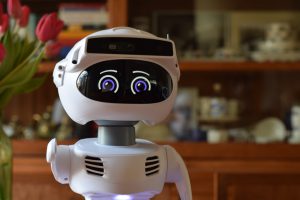 Beta testing of Guardian in Geneva
25/11/2022
In Geneva, we are currently Beta testing the Guardian system. The goal is to resolve the identified problems on the prototypes, in order to obtain a better fitting version.
The users are practicing the services daily for a 2 weeks trial. Caregivers from distance and seniors from home.  Formal caregivers, for example family members, and informal caregivers, like nurses, can get connected to the senior via the guardian system.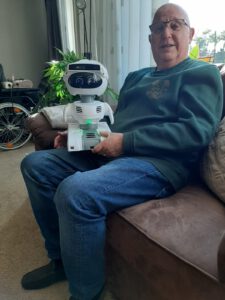 Co-creation with clients of Zorggroep Noordwest Veluwe
25/11/2022
Together with our elderly, informal caregiver and formal caregiver we were part of the  team that evaluate the Guardian system. The idea is that a system as the guardian can be a platform that can support Informal caregiver and formal caregiver in the care of frailty elderly from a distance.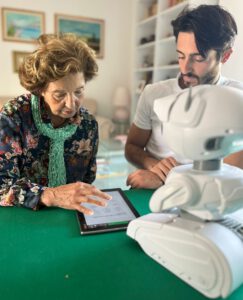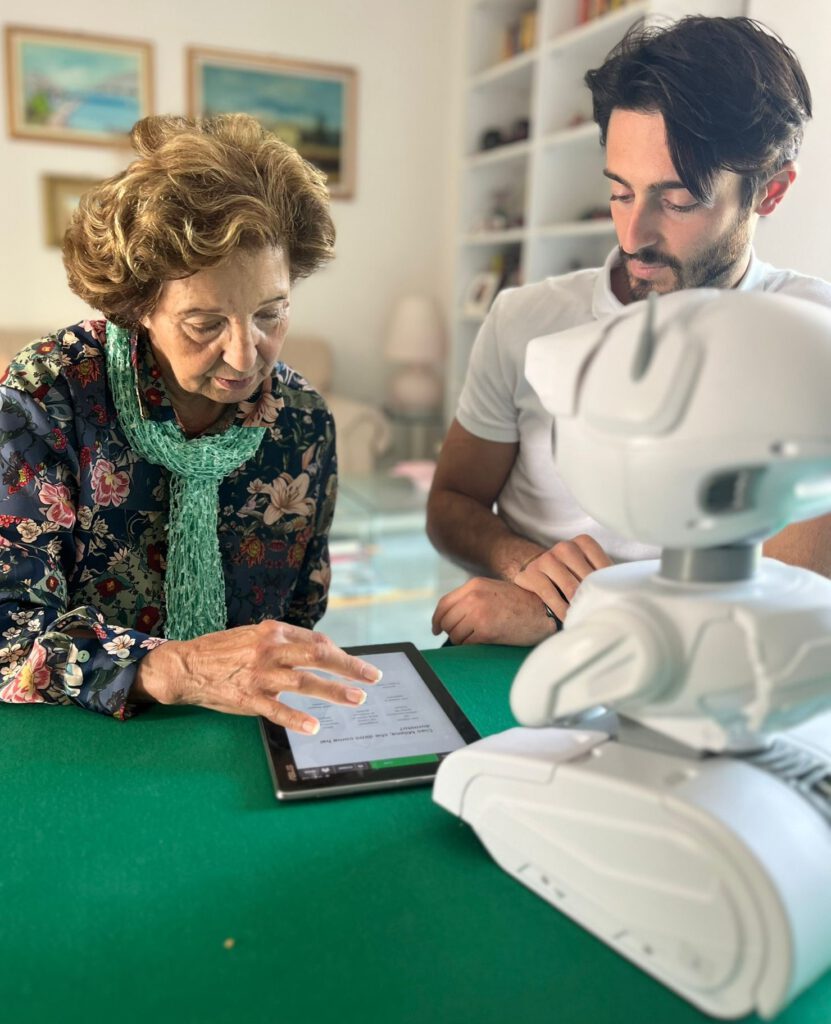 Guardian beta testing in Italy
22/11/2022
The beta test of Guardian started in Italy at the end of September with an information day, which was attended by 3 seniors, 2 of their relatives and a formal caregiver. During the session, the functioning of the system was demonstrated and the objective and benefits of Guardian were explained. Those present were amazed and enthusiastic about the possibility of using the system at home.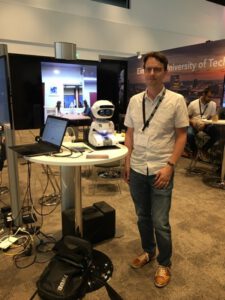 GUARDIAN at the EU Robotics forum 2022
15/10/2022
The EU Robotics forum is a three-day event where scientists, industry and policy makers meet. There were 458 registered visitors with about 100 from research industry giving the Guardian project a lot of exposure. A demo of the Misty robot of the Guardian project was presented as part of the stand of the Eindhoven University of Technology.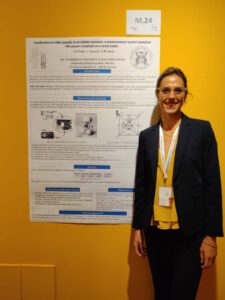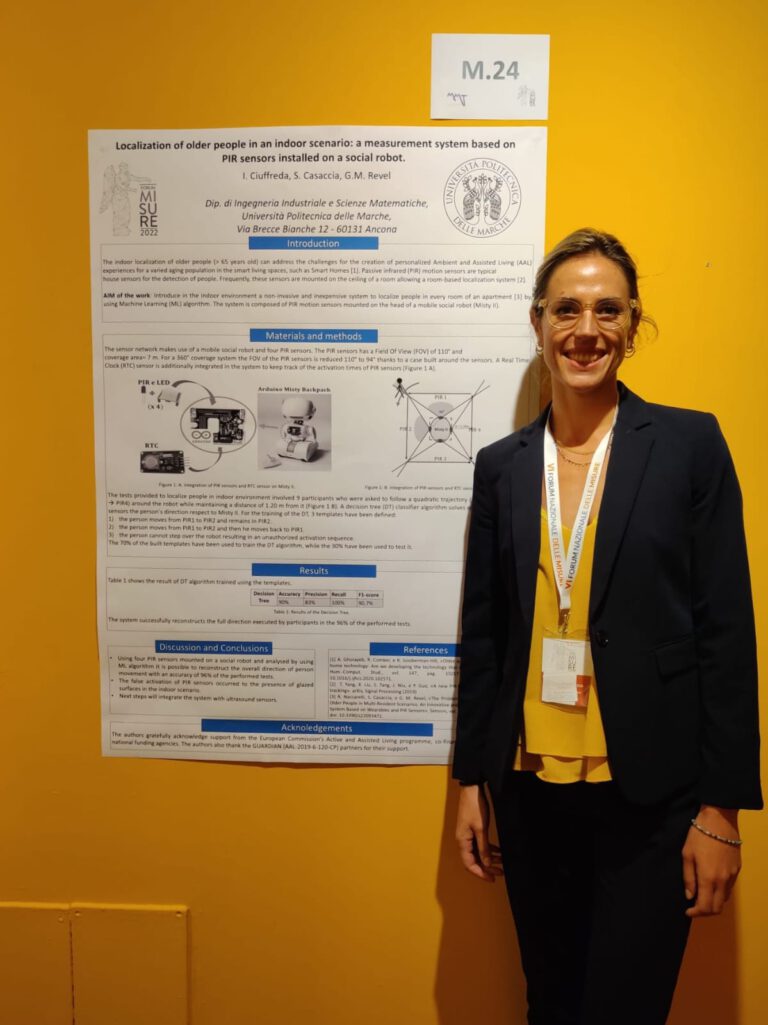 GUARDIAN at the National Forum of Measurements 2022
26/09/2022
At September 16, Sara Casaccia, assistant professor at Polytechnic University of Marche (UNIVPM), presented a research work related to the activities of GUARDIAN project at the National Forum of Measurements 2022 in Brescia (Italy).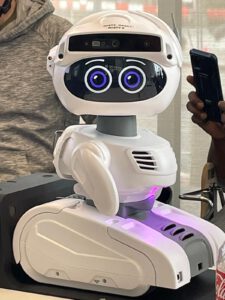 GUARDIAN robot makes eye contact and is happy to see you
07/08/2022
The Misty robot of the AAL Guardian project is a friendly robot who is always happy to see you and always has time for you. The eye contact skill is one of the main ingredients that make this possible.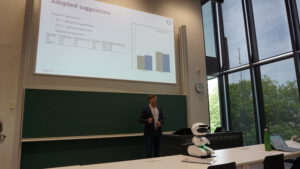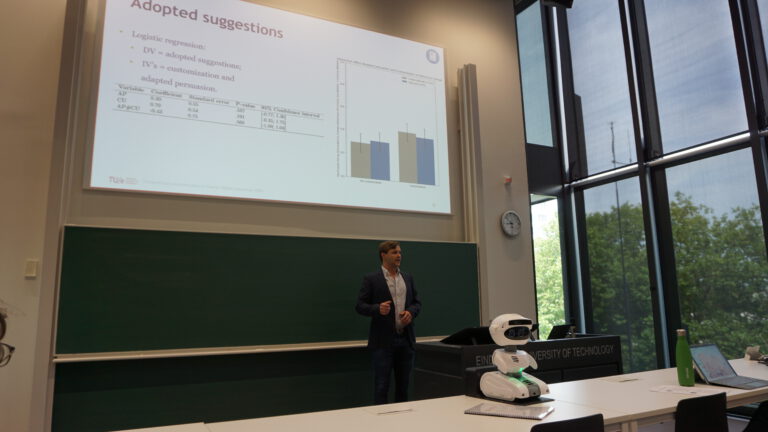 Personalized communication and language use in Human-Robot Interaction
28/07/2022
Customizing multiple communicational variables in Socially Assistive Robots (SARs) has a positive effect on perceived persuasiveness by the end-user. This finding can be used in healthcare in which a SAR can act as a medical assistant, called an E-health device. Furthermore, relations of customization and an increased acceptability were found. However, this trend was judged non-significant for the current data and should be validated first.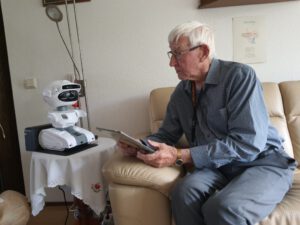 First tests with Guardian in the homes of seniors
15/06/2022
Between March and May 2022 we tested for the first time in Switzerland, Italy and the Netherlands the prototype of the Guardian robot with seniors in their own homes. At the same time (in)formal carers participated and tested the Guardian Caregiver application by setting reminders, requests and messages for the senior.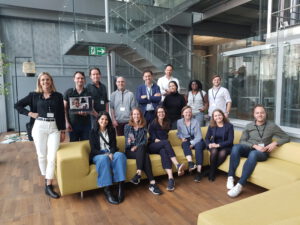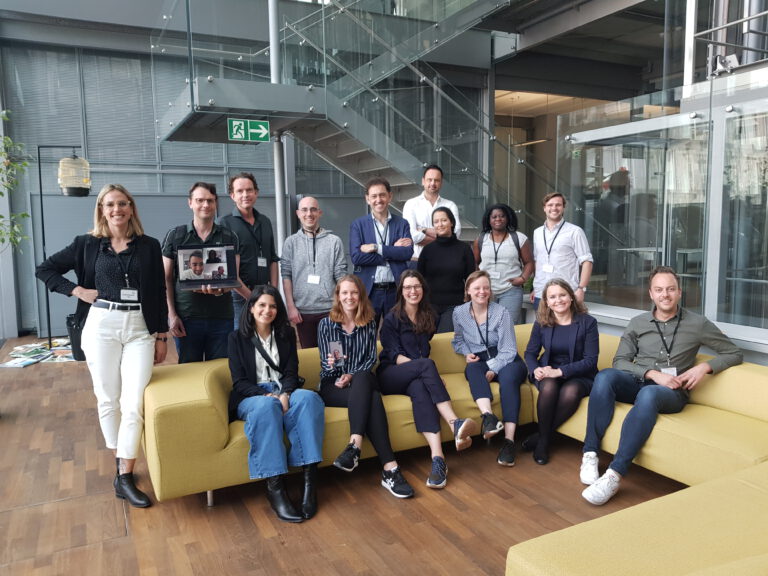 Fourth consortium meeting
22/05/2022
Mid April 2022, the GUARDIAN project team got together in Geneva for the fourth consortium meeting. With the results of Alpha testing with prototype #2, the design and development of prototype #3 were discussed.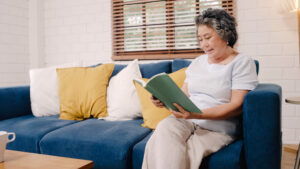 Socially Assistive Robot (SAR) and Emotion
23/03/2022
Socially assistive robots have been increasingly discussed as solutions in care and domestic use for the support of senior adults; however, a few of them (e.g., Jack and Sophie) include automatic emotion recognition. The emotions could be used by a formal (e.g., nurse) or an informal caretaker (e.g., family member) to support the senior in their everyday life.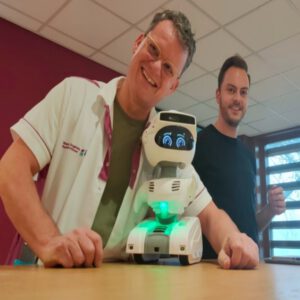 A new, special colleague in home care
23/03/2022
Very carefully, home care manager Joran Hoogenberg opened a large box, and then proudly lifted out his new colleague: the Guardian robot Misty II! Joran's colleagues Yaela and Fred from home care, Rick from ICT and Klaske and Anita from communication were very impressed.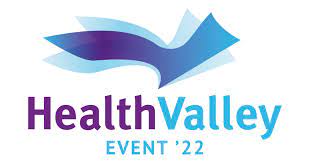 Health Valley Event 2022
10/02/2022
Health Valley Event (HVE) is the place to be in the Netherlands to meet everyone involved in innovations, science and business in Life Sciences and Health. Past editions of our event attracted more than 1,200 visitors each year. In 2022, HVE will take place on 15 March – 17 March 2022 in hybrid form: onsite in Pathé Nijmegen with an online event programme. Onsite we will present Guardian on the booth of our partner Smartrobot.solutions. See you there!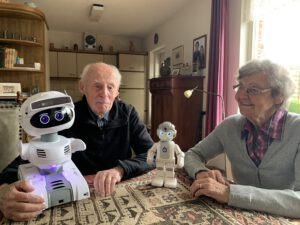 Interview: Social robot Guardian: friendly companion in addition to daily care
29/11/2021
How to ensure that the capabilities of a care robot match the needs of older people living at home? With this in mind, ConnectedCare conducted field research by interviewing informal carers, older people and professionals. 'It is important that Guardian is an extension of guidance, not a replacement.'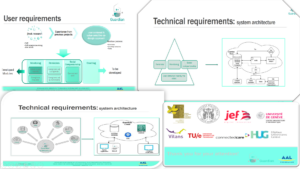 Design and development of the GUARDIAN ecosystem at ALTRUIST 2021
22/11/2021
At November 13, Giulio Amabili, researcher at  National Institute of Health and Sciences on Aging (INRCA), presented a paper about the Guardian project at ALTRUIST 2021 workshop. ALTRUIST was at its first edition and counted more than 40 attendants. The aim of the workshop was pushing the synergetic contribution of Artificial Intelligence, Internet-of-Things, Robotics and Social Science to develop innovative and effective researches and technologies for the ageing society…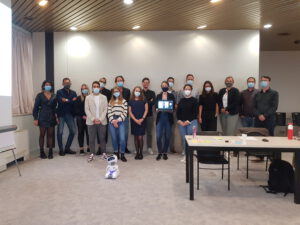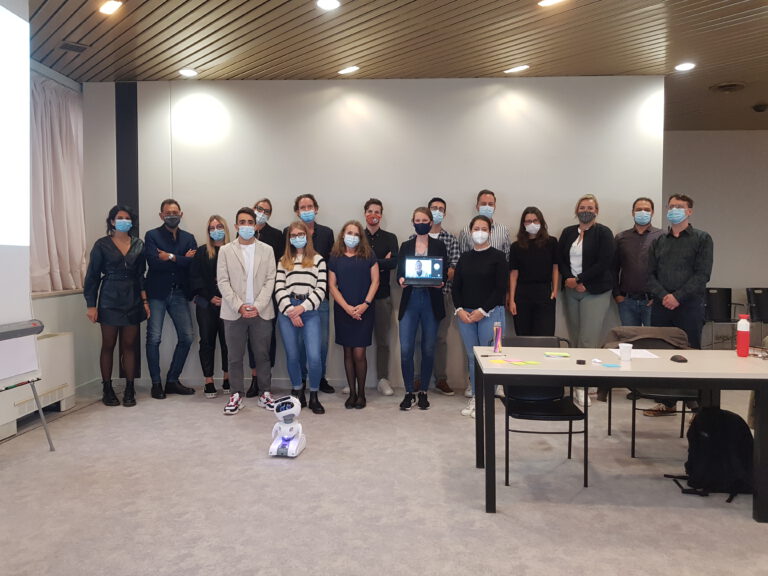 Third consortium meeting
22/10/2021
Early October 2021, the GUARDIAN project team gathered for a consortium meeting in Ancona. Based on the findings from the user studies with prototype #1, product improvements were discussed and prioritized. We particularly focused on three themes: (1) Personalization and social companionship, (2) Responsible Innovation, social desirability and ethical acceptability and (3) Business Modelling and IPR. The meeting resulted in a development roadmap towards prototype #2.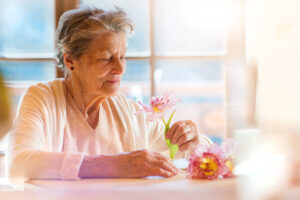 Assessment of Domestic Well-Being: From Perception to Measurement
02/09/2021
Nowadays, there are plenty of sensing devices that enable the measurement of physiological, environmental, and behavioral parameters of people 24 hours a day, seven days a week and provide huge quantities of different data. Data and signals coming from sensing devices, installed in indoor or outdoor environments or often worn by the users, generate heterogeneous and complex structured datasets, most of the time not uniformly structured…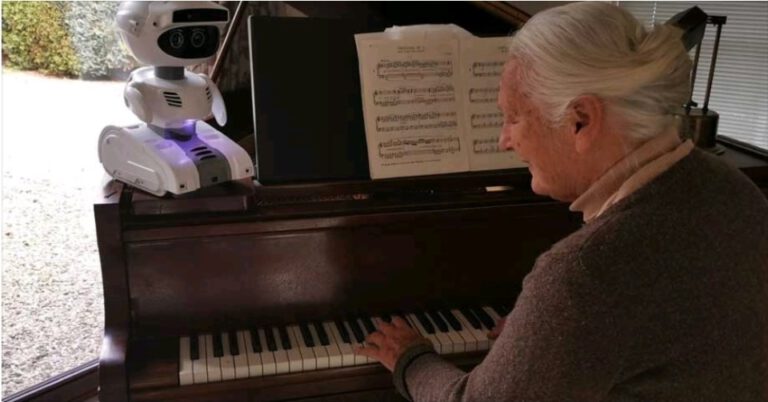 Care organization involved in the development of an advanced care robot
25/08/2021
Zorggroep Noordwest-Veluwe (ZNWV), a care provider in the Netherlands that is specialized in senior care, is part of the development of the care robot in the Guardian project. ZNWV supports the design and development parties to create functionalities have real added value.
Upcoming symposium: The COVID-19 Pandemic, A Catalyst For Digital Health
25/08/2021
Despite the world's challenges while overcoming the COVID-19 pandemic, we observe its significant positive impact on healthcare's digital transformation. The symposium emphasizes the extent to which the pandemic acted as a catalyst for accelerating digital health. Successful examples of telehealth, remote monitoring, and services for the individual's health self-management support the motivation for using solutions like Guardian. The future is nearer than we think. For more information on the symposium, visit: http://digitalhealth.unige.ch/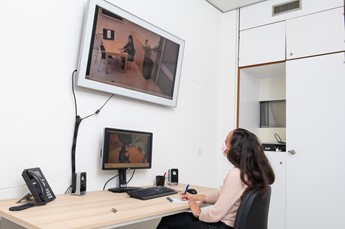 The challenges of implementing responsible user-centered evaluation in times of pandemic crisis
29/07/2021
Projects like Guardian always include a long period of iterative evaluations and rectifications to end up in a qualitative designed product that meets end users' needs. Nevertheless, the current situation we are experiencing all around the world has raised hurdles to the Guardian's testing implementation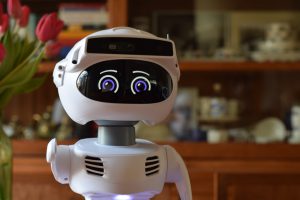 A robot that knows when an older person is feeling sad 
29/07/2021
'In order to support caregivers, we want the Guardian care robot to be able to detect the feelings of an older person', says Alexandre de Masi, PhD Student of the University of Geneva who is involved in the research. 'With Artificial Intelligence (AI) the robot will improve the interpretation of emotions over time.'
Guardian: a demonstration of the first prototype
29/07/2021
Are you curious to know how Guardian would be used by seniors, their loved ones and their home care nurses? In a demonstration video of prototype 1 the use of Guardian is shown and explained. In prototype 1, the interaction with the Misty robot, is supported by the use of a tablet.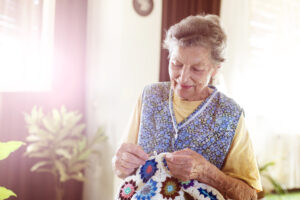 Nothing about us, without us: Early involvement in co-creation is critical in designing care technologies
24/02/2021
As life expectancy increases, so too does the cost of healthcare. This is especially true across Europe where a large portion of the silver economy is driven by the care needs of people choosing to live independently at home longer. In addition to the challenges this situation poses for governments and the wider health eco-system, it places an additional responsibility on carers and family members to provide specialised, home-based care, especially for people living with dementia.

A social robot can be of great use in times of a pandemic
18/11/2020
The University Politecnica delle Marche (UNIVPM) in Italy is involved in, among others, the technological development of social robot Guardian. Researcher Sara Casaccia: 'In providing care services, a social robot like Guardian can limit the trips to hospital and the GP for older persons and their informal carers. This is beneficial in times of a pandemic'
Keynote: How technology is changing the way we collect, analyze and interpret patient-relevant data.
20/11/2020
The 'gold standard' way to assess the behaviours, health experience, and quality of life (QoL) in adults implies using self-reports. However, recently, personal health technologies like wearables have shown to be an increasingly accurate source of behavioral aspects like sleep or physical activity. In this talk, we discuss the extent to which self-reports and personal health technologies provide convergent information in a cohort of healthy seniors contributing to an observational study for up to 2 years. In the next iteration of our research project, we plan to investigate how solutions like Guardian can be leveraged to collect accurate and timely behavior and life quality datasets, releasing the seniors from the obligation to self-report. 
Presentation: Social robots in long term care
18/11/2020
Dr. Henk Herman Nap (Coordinator of the Guardian project) presented 'Guardian: Social robots in long term care' at the 2nd EU China Health Summit on October 22, 2020. The online presentation was attended by more than 70 people.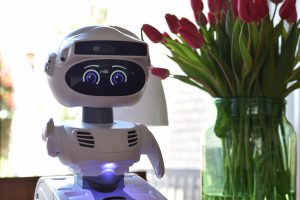 Care robot Guardian in the spotlight on Swiss television station RTS
30/09/2020
Jessica Rochat is a specialist in human-machine interaction and works at Geneva University Hospitals (HUG). The Radio Télévision Suisse (RTS) interviewed her on August 18, 2020. Jessica: 'It's still not common for people to interact with a robot. That's why it's very important that we assess the needs of the end users: older people living at home.'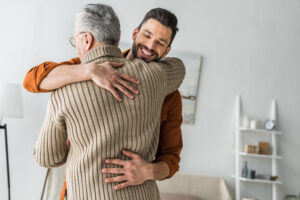 Guardian: Enhancing the autonomy of older people – respecting privacy
30/09/2020
Guardian is a three-year project that started on the 25th of February, 2020. Coordinator Dr. Henk Herman Nap and researcher Dirk Lukkien from Vilans (www.vilans.org), share an update and discuss the role of responsible innovation. 'We will innovate responsibly. Therefore it is essential to reflect and be constantly aware of the choices we make in the development process.'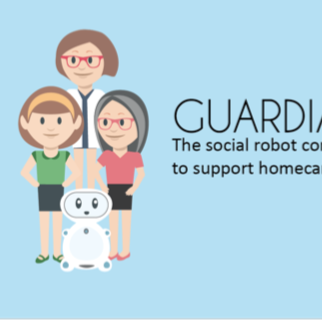 Interview – Eyes and ears of Guardian care robot
09/03/2020
Developing an advanced robot that supports older people, community nurses and caregivers. That is the aim of the international project Guardian. Vilans researcher and coordinator of the Guardian project Henk Herman Nap: "With the Guardian robot, the caregiver remotely knows where his/her client has fallen, the robot can drive to the person and a video connection can be established."