Guardian is a three-year project that started on the 25th of February, 2020. Coordinator Dr. Henk Herman Nap and researcher Dirk Lukkien from Vilans (www.vilans.org), share an update and discuss the role of responsible innovation. 'We will innovate responsibly. Therefore it is essential to reflect and be constantly aware of the choices we make in the development process.'
The aim of GUARDIAN is to develop an advanced robot that supports older people living at home, community nurses and informal carers. Want to learn more about Guardian? Read the article: 'Eyes and ears of Guardian care robot': https://guardian-aal.eu/eyes-and-ears-of-guardian-care-robot/.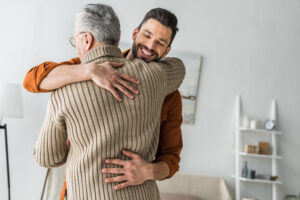 A robot that can drive around the house
Nap: 'As a consortium, we made a choice for a specific type of robot. We will further develop this type and test it with users. We have opted for a robot type with an open platform. A robot that can drive around the house, has various sensors, and on which you can install new modules, such as a smarter computer.'
In various countries, the consortium partners have conducted research into the underlying wishes and needs of clients and carers. Three important preliminary tasks have been derived from this. Nap: 'Firstly, Guardian can provide social interaction for older people. It is a kind of 'buddy' who can support contact with the informal carer. In addition, the robot is able to monitor how things are going, both by actively asking the client about this and by retrieving information via sensors. A third function is that the robot is able to provide a bit of coaching during the day.'
Mapping stakeholders: essential for successful implementation
Nap: 'Recently, we have also mapped out which stakeholders we can and must involve during the project. This is really important. You can deliver a robot that is very user-friendly for an older person, but that does not mean that all stakeholders agree on the added value of Guardian. Consider, for example, financiers or innovation managers. When they are not convinced of the benefits, then implementation and upscaling could just as easily fail. We did this stakeholder analysis in the Netherlands, but it is also carried out on a European scale by the University Hospital of Geneva.'
The Dutch knowledge organisation for long-term care Vilans (www.vilans.org), is coordinator of the Guardian project. Nap: 'We assembled the international consortium and organize the meetings. We also helped to outline the idea and concept for co-creation and evaluation. We are responsible for financial management and knowledge dissemination. Furthermore, we monitor progress and are accountable to the subsidy providers. Finally, we coordinate and conduct the research in the Netherlands at Zorggroep Noordwest-Veluwe.'
Responsible Innovation
As part of the coordination effort, Vilans encourages that in all parts of the project, attention is paid to 'responsible innovation'.
Deployment of robots is still in the experimental phase
PhD researcher Dirk Lukkien: 'Robots can improve the quality of care and the quality of life of older people. This is especially important in regard to the imminent staff shortage in healthcare. But the development and deployment of care robots is still in an experimental phase, so much is still unknown about their impact in practice. This technology also has an impact on issues such as autonomy, privacy, inclusion and trust. That impact can be both positive and negative.'
Technology with a bit of autonomy
Lukkien conducts his PhD research within Guardian and has a coordinating role in creating awareness among all project partners about the importance of responsible innovation. 'As Vilans, we facilitate the process of making critical choices in how we will deploy this technology. For instance, we use artificial intelligence (AI) in the development of the robot. This means that we will use self-learning algorithms, for instance for vision and speech recognition, thereby  giving the technology a bit of autonomy. Therefore, we have to be critical about how we can carefully design and deploy such autonomous technology.'
Minimize risks and create a product that the end user can trust
Lukkien: 'But how do you prevent the robot from making mistakes because of this autonomy? And to what extent should the user understand how the robot comes to certain decisions or actions? We want to ensure that explicit choices are made about this and that AI is used in a responsible manner. Not only to minimize risks, but also to create a product that the end user can trust.'
A handbook for consortium partners
Lukkien: 'There are more and more guidelines for ethical, trustworthy and responsible AI. But these guidelines are not yet focused on the context of long-term care. Guardian can provide more insight into this. A number of factors emerge as key in the existing guidelines, such as privacy, transparency about algorithms, non-discrimination (taking into account diversity), security and sustainability. We have also included such guidelines in our Responsible Innovation Handbook, which has been drawn up in recent months for all project partners. The handbook is mainly meant as inspiration because you can only make the translation in practice if the context is properly included.'