Together with our elderly, informal caregiver and formal caregiver we were part of the  team that evaluate the Guardian system. The idea is that a system as the guardian can be a platform that can support Informal caregiver and formal caregiver in the care of frailty elderly from a distance.
As a care organization, we are also using more and more care technology and digital care to guarantee the self-reliance of elderly people who live at home for longer instead move to a nursing home. Our caregivers will increasingly have to deal with this in their daily work. From that point of view, it is important that both the elderly and the caregiver can part of the design team. They can use their experience knowledge to develop interventions together with professional designers. This so called co-creation or co design provide ownership and helps end-users as caregivers and patients to use technology in daily live easily.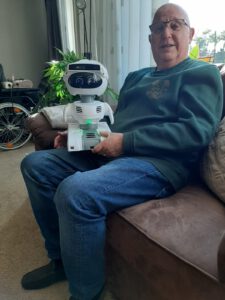 " I would use the guardian as a companion I can talk to. It would help to prevent loneliness" – senior


Our eldery, their informal caregivers and formal caregivers know very well what they like to see in healthcare technology and what is needed to use care technology in a responsible way. They also have the experience knowledge about how to integrate it into their lives and work. It was a pleasure to see how our elderly, informal and formal caregivers took the stage they were given and participated in sharing their experience knowledge as end user to improve the functionality of the Guardian system.