As life expectancy increases, so too does the cost of healthcare. This is especially true across Europe where a large portion of the silver economy is driven by the care needs of people choosing to live independently at home longer. In addition to the challenges this situation poses for governments and the wider health eco-system, it places an additional responsibility on carers and family members to provide specialised, home-based care, especially for people living with dementia.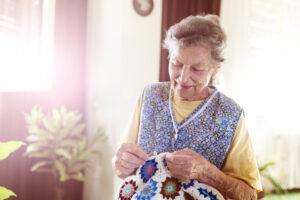 Together with a team of European researchers, designers and innovators, Vilans Expert on eHealth, Dr. Henk Herman Nap is working to develop and test technologies that will improve the quality of care and help support this group to live more independently.
Ageing Innovations in Europe
In a presentation given at the online Gerontech and Innovation Expo cum Summit (GIES) in Hong Kong, Dr. Nap looked at the application and development of ageing innovations in Europe. He used the example of the Netherlands where an estimated 280,000 people are living with dementia, with many of them choosing to live at home. This, he said, combined with a shortage of nurses in elderly care, has created an urgent need for supportive technologies in eHealth to move quickly to find ways to improve work efficiency for carers and reduce costs.
"Our vision on eHealth is to always co-create with users in mind and the benefits they will get from the technology. For this reason, it is essential to involve them from te start of the design process."
During his presentation, Dr. Nap described some of the most promising eHealth technologies for supporting people with dementia, such as social robots, video surveillance systems, smart diapers, and GPS localisation. In addition to smart equipment and monitoring devices, Dr. Nap also highlighted innovations to entertain and motivate patients so they could improve their social interactions.
The GIES is a flagship event jointly hosted by the Government of the Hong Kong Special Administrative Region and the Hong Kong Council of Social Service and provides an international platform for researchers, developers, policymakers and healthcare workers to work together on the challenges in long-term healthcare. The online summit was attended by almost 5000 people from all over the world and the presentations are now online.